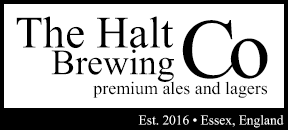 Ale & lager recipes for home brewing
Welcome to the complete list of recipes brewed by Andy and blogged about on the UK Homebrewing Forum. If you're not already a forum member then I encourage you to sign up and join the chat with other like-minded home brewers.
On this site you'll find a large and continually growing selection of ale and lager recipes suitable for making at home using all-grain brewing equipment.
Mobile users tap the menu () icon to see a menu containing the recipes.
I call myself The Halt Brewing Co. because it looks good when printed out on a bar runner sitting on top of my keezer but it's really just me brewing at home like so many thousands of other brewing enthusiasts around the world.
Each recipe will be presented in the style of a blog entry that documents the trials and tribulations of my brews from the day I create my yeast starter to the day I can finally enjoy a pint of my beer. My notes are a bit light and lacking in detail for the older brews so please excuse the lack of commentary on those; I've tried to fill in as much detail as I can from memory.
Latest updates
Here's the last five of my brews and their status.