Theakston Best Bitter
This weekend I've decided to brew the recipe for Theakston Best Bitter as printed in the Graham Wheeler book.
Yeast preparation
For a change I'll be using Wyeast 1469 (West Yorkshire) for this brew instead of the Brewlab Yorkshire that I've been using lately. The plan is to alternate between these two yeasts for the next four or five brews to see which one I prefer.
Theakston Best is a low OG (1.038) recipe so a litre starter will be enough and because I want to keep some behind for the future I'm doing a 1500ml starter and will keep 500ml back in a kilner jar. The best-before date on this pack was 5 months in the future which is very fresh so there are no concerns about the starting cell count.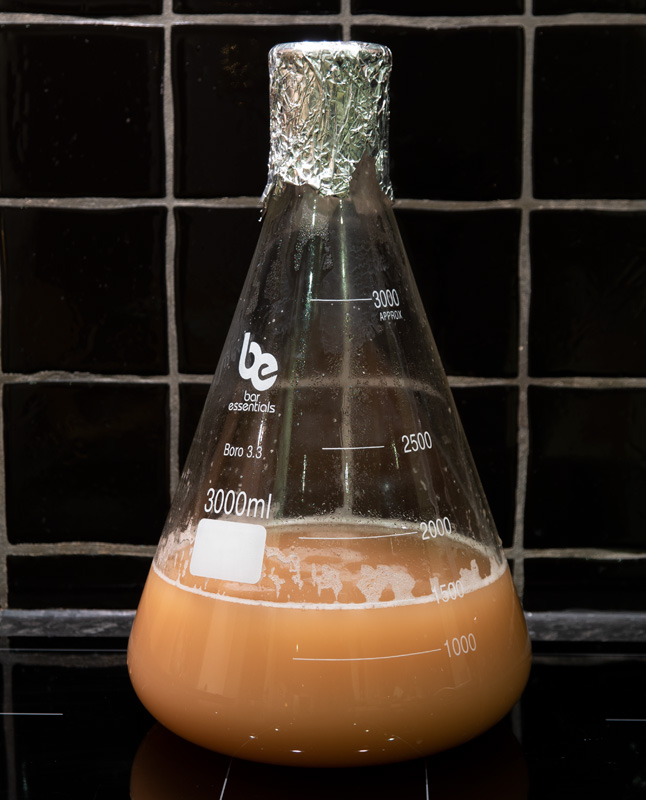 Only the Brewlab yeast has ever managed to successfully escape from this three litre flask so I feel safe using it today. The starter's on in the brew-fridge at 20C and should be done in a couple of days.
Brew day
Here's the recipe for Theakston's Best taken from the Graham Wheeler book and translated for use in my system with the appropriate water additions.
Recipe Specifications
--------------------------
Date: 27 March 2022
Batch Size (fermenter): 24.00 L   
Estimated OG: 1.038 SG
Estimated Color: 14.8 EBC
Estimated IBU: 26.6 IBUs
Brewhouse Efficiency: 75.00 %
Est Mash Efficiency: 75.6 %
Boil Time: 60 Minutes
Water profile: Ca:92 Mg:12 Na:9 SO4:138 Cl:92

Ingredients:
------------
Amt         Name                                   Type         %/IBU    
29.16 L     Tesco Ashbeck                          Water        -        
3.90 g      Gypsum (Calcium Sulfate) (Mash)        Water Agent  -        
3.00 g      Calcium Chloride (Mash)                Water Agent  -        
2.40 g      Epsom Salt (MgSO4) (Mash)              Water Agent  -        
3.680 kg    Crisp Maris Otter (7.9 EBC)            Grain        94.6 %   
0.210 kg    Crisp Light Crystal (150.0 EBC)        Grain        5.4 %    
0.80 g      Gypsum (Calcium Sulfate) (Sparge)      Water Agent  -        
0.60 g      Calcium Chloride (Sparge)              Water Agent  -        
0.50 g      Epsom Salt (MgSO4) (Sparge)            Water Agent  -        
20.00 g     Challenger [7.70 %] - Boil 60.0 min    Hop          18.4 IBUs
10.00 g     Fuggles [5.00 %] - Boil 60.0 min       Hop          6.0 IBUs 
10.00 g     Fuggle [5.00 %] - Boil 10.0 min        Hop          2.2 IBUs 
1.00 Items  Whirlfloc Tablet (Boil 7.0 mins)       Fining       -        
1.0 pkg     West Yorkshire Ale (Wyeast Labs #1469) Yeast        -        

Mash Schedule: Single Infusion, Full Body, Batch Sparge
Total Grain Weight: 3.89 kg
----------------------------
Name     Description                      Step Temperat Step Time     
Mash In  Add 24.16 L of water at 70.0 C   67C           60 min        

Sparge: Dunk sparge with 5L

I followed the recipe more or less to the letter except for substituting in 200g of pilsner malt for maris otter because I needed to use it up.
Brew day went entirely according to plan with all the pre and post boil volumes and gravities being exactly where they should be. I ended up collecting 24.5 litres of tasty looking wort into the fermenter.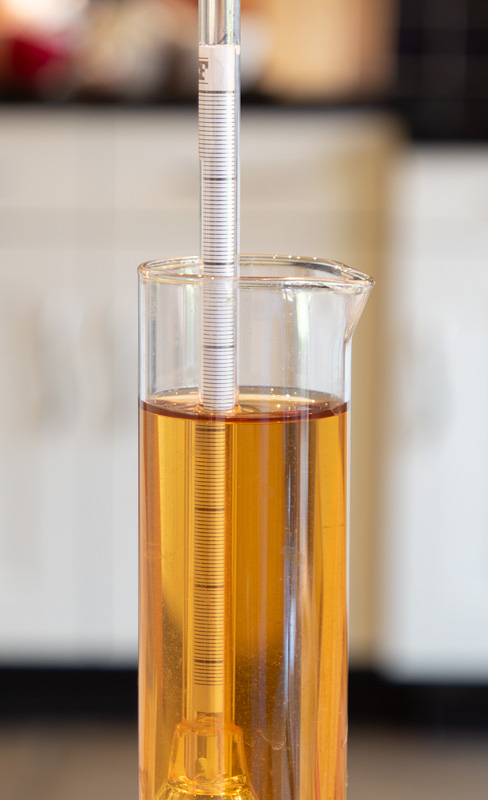 The ground water around here must still be quite cold because I managed to quickly chill the wort to 21C with my immersion chiller. That meant there was no wait required before pitching the yeast and so the decanted starter of Wyeast 1469 was pitched and the fermenter tucked up in my brew fridge set to 20C.
Kegging day
I kegged this after two weeks in the fermenter. There was still the odd bubble coming through the blow-off tube every 90 seconds or so which I put down to some off-gassing after fermentation and was not a reason to delay the packaging.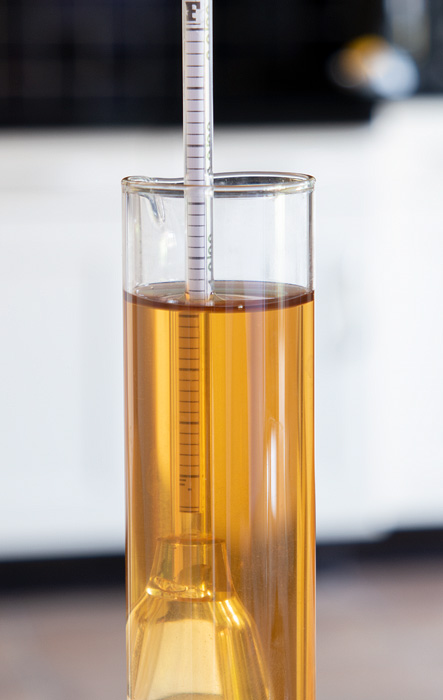 FG was 1.005 which may seem low but I'm starting from a relatively low OG of only 1.038 and the attenuation of 86.5% is within the range that I get from all liquid yeasts. The final ABV is 4.3% and I got one keg and 3 bottles from the fermenter. The keg was fined with dissolved leaf gelatin and is set on about 12 psi to carbonate.
The empty fermenter smelled absolutely luscious for such a simple recipe and I'm really looking forward to trying this once it's carbonated and conditioned.
Tasting notes
Despite being slightly higher in gravity than the original this has come out as a nice, easy drinking bitter. Which is exactly what it's supposed to be. There's a good balance between the malt and the classic English hops.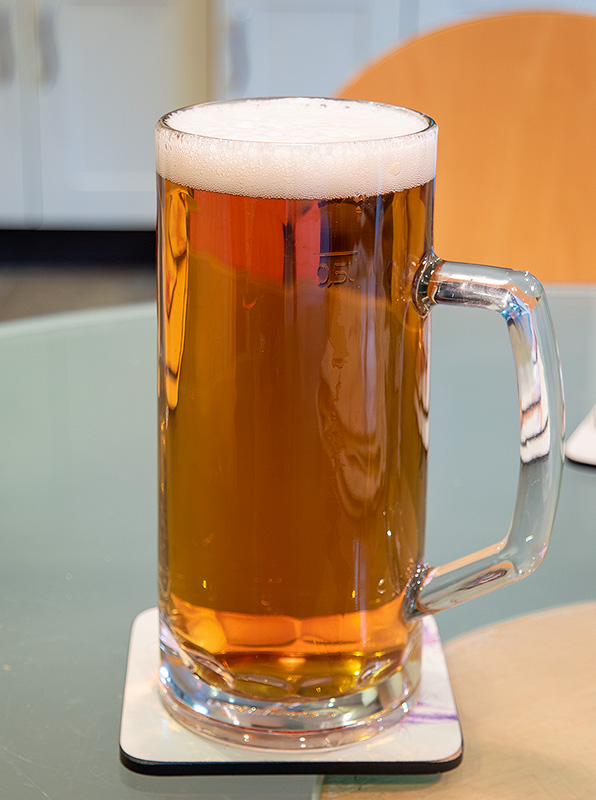 Clarity is perfect, colour is about right compared to the original and carbonation in the keg is low. I can't see this keg lasting many more weeks!