Nouvelle No.2
The origin Duvel beer is one of my favourites and on its own practically defines the Belgian Golden Strong beer category. This is my second attempt at brewing something similar of my own.
Yeast choice
The first time that I did this I brewed it with yeast cultured from a bottle of Duvel. It worked, the beer was very good. This time I thought I'd do exactly the same again and so the bottle was purchased and left in the fridge for a week to allow the yeast to settle to the bottom.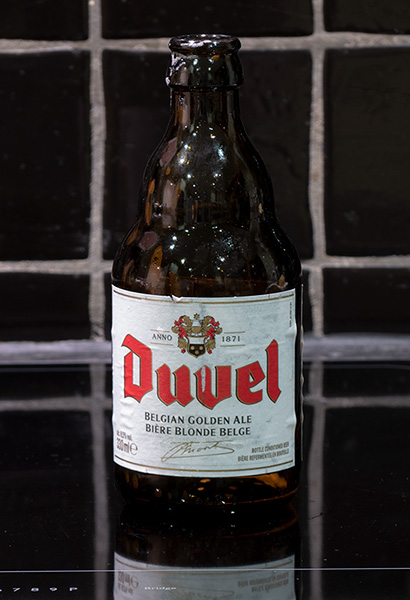 After pouring the beer into a glass I was left with the dregs that I swirled up into a cloudy solution and poured it into 200ml of 1.020 starter wort that I'd prepared earlier and chilled to 20C.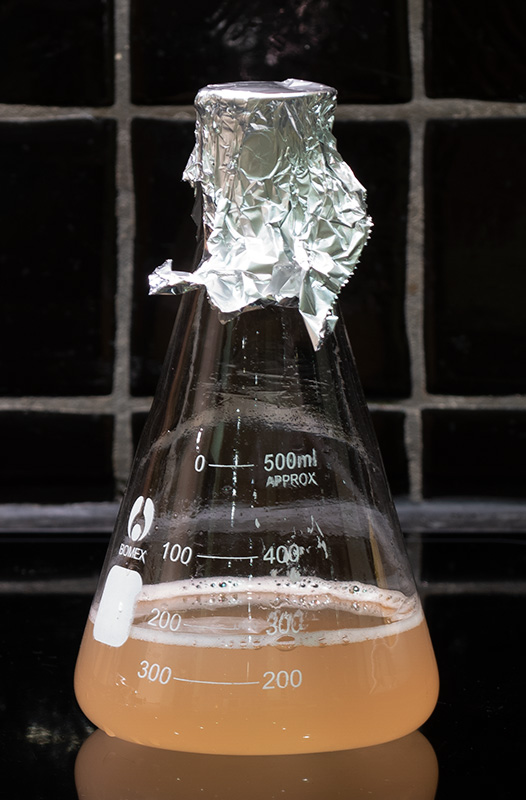 Long story short, it didn't work to my satisfaction. The starter fermented OK, I stepped it up and the next stage fermented OK. I then chilled it to take stock of how much yeast I'd got so far.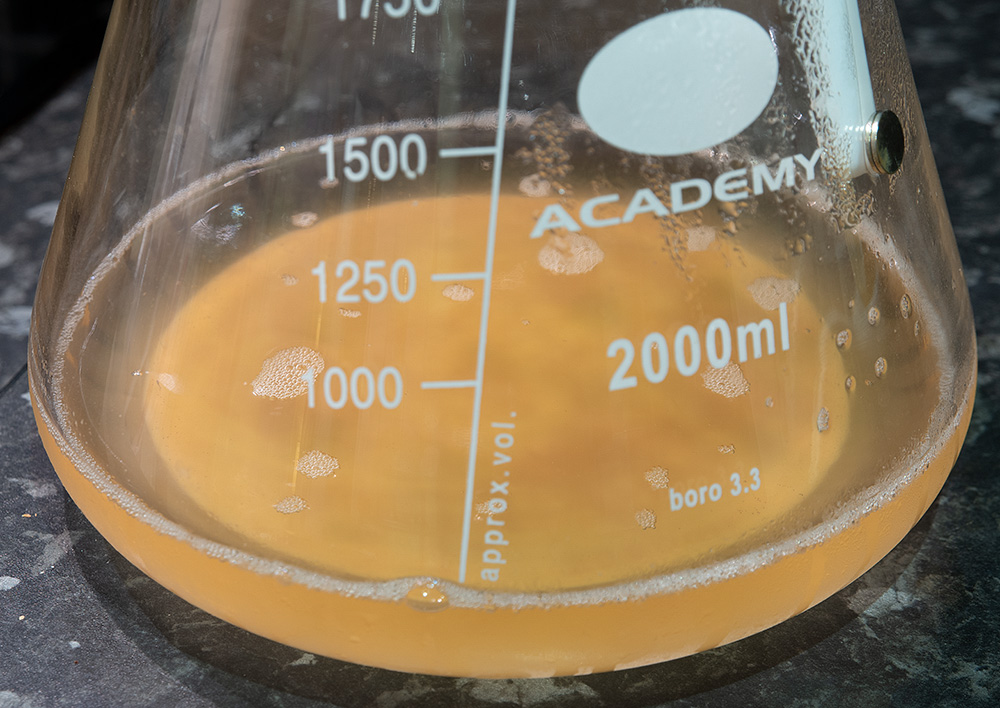 It had fermented down as expected and definitely didn't taste off or sour or bad in any way. The problem was it didn't taste of anything whatsoever when last time it definitely had the distinct Belgian character. I wonder if they've started using a bland bottling yeast? Another difference this time around was the total absence of krausen on the starter. Last time it was super-agressive and tried, in fact succeeded in climbing out of the flask and making a total mess in my brew fridge. Another indication that perhaps it's not the same strain.
I didn't want to risk making 20 litres of Belgian beer with no yeast character so I've discarded it and ordered a pack of very fresh Wyeast 1388 from The Malt Miller and will be postponing my Belgian Golden Strong brew day for a week.
The Wyeast 1388 arrived and I made a 1.5 litre starter from it.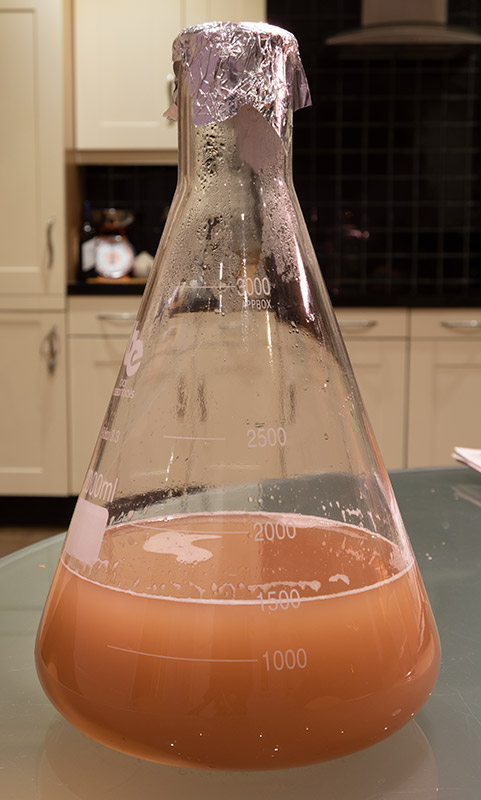 Wyeast 1388 is POF+ so I must make a note to clean all kit extra-thoroughly after this one's done.
Brew day
Recipe: Nouvelle No.2
Date: 13 Dec 2020
Batch Size (fermenter): 24.00 L
Estimated OG: 1.065 SG
Estimated Color: 7.1 EBC
Estimated IBU: 26.0 IBUs
Brewhouse Efficiency: 75.00 %
Est Mash Efficiency: 75.6 %
Boil Time: 60 Minutes
Water profile: Ca:32, Mg:3, Na:9, SO4:10, Cl:50

Ingredients:
------------
Amt         Name                                              Type         %/IBU
29.90 L     Tesco Ashbeck                                     Water        -        
3.70 ml     Lactic Acid (Mash)                                Water Agent  -        
1.50 g      Calcium Chloride (Mash)                           Water Agent  -        
4.60 kg     Weyermann Bohemian Pilsner (4.0 EBC)              Grain        74.2 %   
0.60 kg     Weyermann Wheat Malt (3.9 EBC)                    Grain        9.7 %    
0.30 g      Calcium Chloride (Sparge)                         Water Agent  -        
0.20 ml     Lactic Acid (Sparge)                              Water Agent  -        
35.00 g     Challenger [6.10 %] - Boil 60.0 min               Hop          20.7 IBUs
1.00 kg     Corn Sugar (Dextrose) [Boil for 30 min]           Sugar        16.1 %   
35.00 g     East Kent Goldings (EKG) [4.10 %] - Boil 10.0 min Hop          5.1 IBUs 
1.00 Items  Whirlfloc Tablet (Boil 7.0 mins)                  Fining       -        
15.00 g     Tettnang [3.00 %] - Boil 1.0 min                  Hop          0.2 IBUs 
1.0 pkg     Belgian Strong Ale (Wyeast Labs #1388)            Yeast        -        

Mash Schedule: Single Infusion, Medium Body, Batch Sparge
Total Grain Weight: 6.20 kg
----------------------------
Name      Description                      Step Temperature   Step Time 
Mash In   Add 24.90 L of water at 69.2 C   65.5 C             60 min    

Sparge: Dunk sparge with 5 L of water at 75 C

Brew day didn't quite go as planned. When I opened my part-used packs of Challenger (2017) and EKG (2018) hops they smelled a little wrong to me. Checking with the wife for a second opinion we both agreed that they were musty and so in the bin they went. With the boil approaching in just a few minutes I fired up Beersmith for an emergency recipe change. 23g of 11% Magnum replaced Challenger and 25g of 4.7% Saaz replaced EKG. Both of those smelled fine, as did the Tettnang so I was back on track.
I missed my pre-boil gravity by 2 points so resolved to add 140g extra brewing sugar to the boil, bringing the total to 1.14kg. I'll have a fiddle with Beersmith later on to see if I can work out where these missing gravity points are coming from.
Anyhow I got 24.3 litres into the fermenter at the end of the day: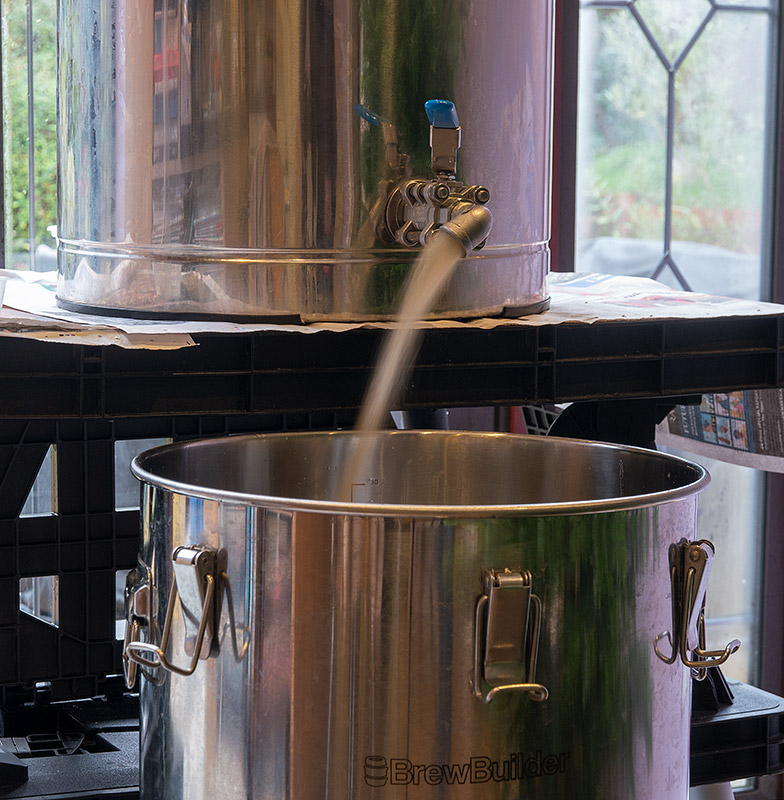 The OG is 1.063, two points off target and looks nice and pale as it should be: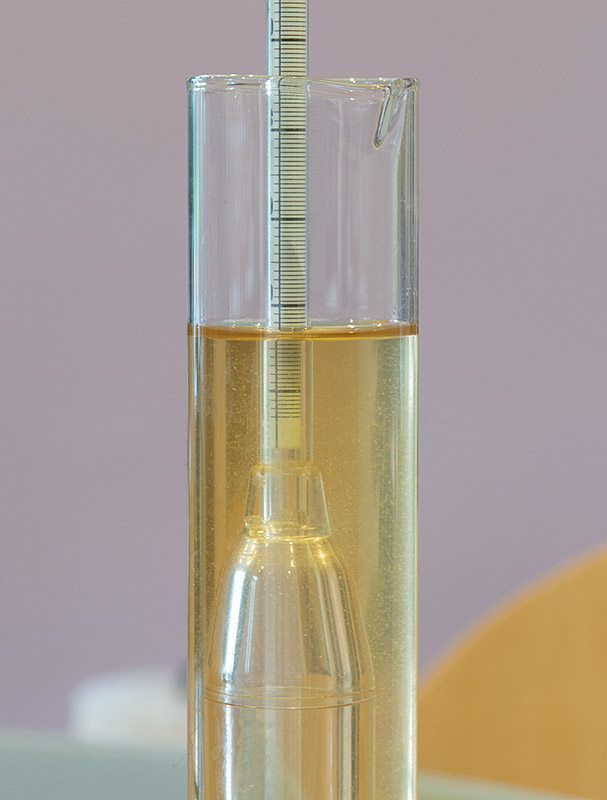 The sample tasted really nice and floral and not massively sweet either which I guess is down to the higher gravity coming from the dextrose addition rather than malt.
If the yeast attenuates very well as they usually do for me then I can expect around 7.4% from the final beer which is fine for what I'm trying to make.
Wyeast state on their website that this strain is prone to stalling at approximately 1.035 which is slightly concerning and I hope tends to apply to higher OG brews than I'm doing. I'm planning to start it at 20C and after 48 hours bring it up 1C per day to 23C for 3 weeks in the fermenter.
Fermentation
I pitched the yeast starter yesterday about 4pm then checked in on it this morning. No bubbling. Hmm, I'm used to a quick start when using a fresh starter. Off I go to google Wyeast 1388 slow start. Turns out that is a thing and it can be slow so off I go to login to work feeling slightly reassured.
Lunch time and I check in again. Still nothing but the temperature appears to have crept upwards towards the upper bound of the Inkbird tolerance. Hmm, maybe there's a leak somewhere in the CO2 outlet tubing (FV -> corny-being-purged -> blowoff tube). I disconnected the keg, popped the lid and stuck my nose in to be greeted with a sinus clearing blast of CO2. OK then, it's a badly seated disconnect. I greased the o-rings and reseated them and immediately bubbles started gushing from the blowoff tube.
All's good in the brewhouse!
Kegging
After 14 days in the fermenter it had reached an amazing 1.002 for a final ABV of 8.1%. I guess that's what having diastaticus in your genes does for you. Also fermenting at 23C will have helped.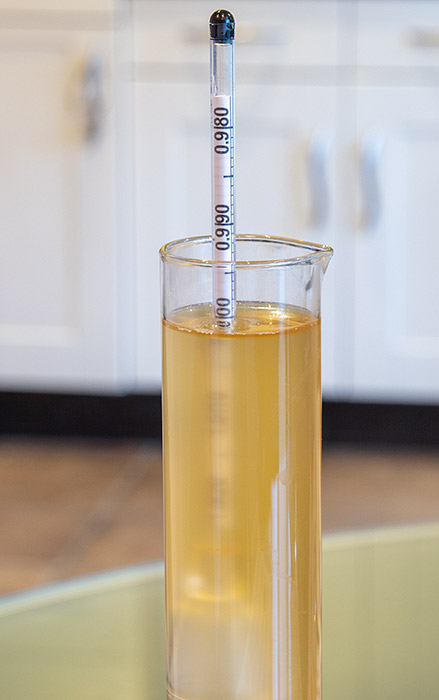 I was hoping for it to have retained some cloudiness and it has done. So much of the Belgian flavour comes from the yeast that when it drops clear it's in danger of being just another strong Saaz-y beer. I got one keg (unfined this time) and 3 bottles from the remainder. The full keg was purged 5x15psi and is now on at 20psi to carbonate.
The sample jar tasted very promising with pear and spicy notes with not much alcohol burn. I think this one will need a month before I can really start drinking it.
Tasting notes
I intentionally didn't fine this, hoping for the yeast character to remain as long as possible but it's still gone and cleared. Happily though it has retained nearly all that Belgian yeast-driven character. The flavour is all banana, bubble gum and Saazy spiceyness with a strong backing from the 8.1% ABV (I fermented the Wyeast 1388 at 23-24C).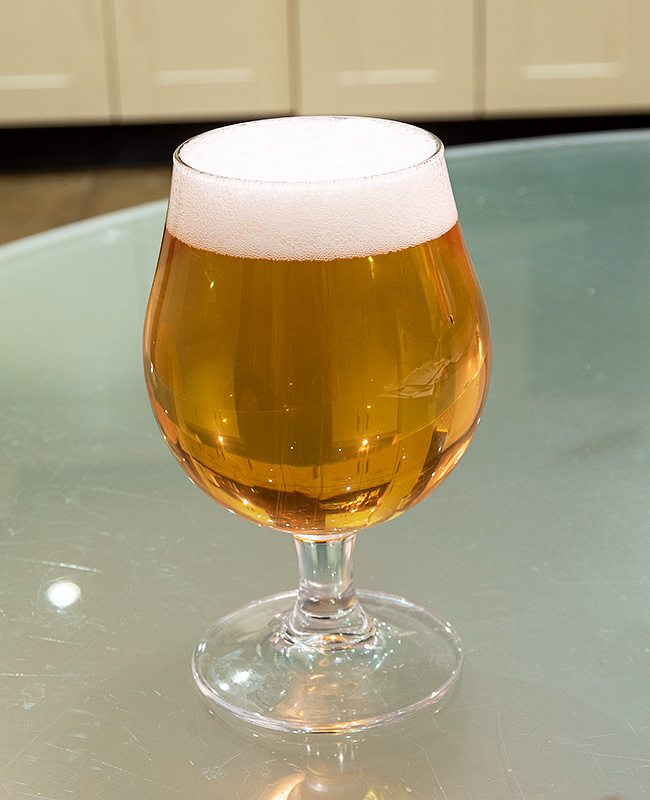 I love it and I'll brew it again, no doubt about that. At north of 8% though I won't be putting it on a quick rotation.