Frühlingbrau
Starter
The L28 starter was done in 48 hours so I took it off the stir plate and plugged the brew fridge in so the starter will stay cold until I need it on brew day, tomorrow. The fridge will be nice and cold as well, ready to ferment this one at 12C.
Brew day
This lager is going to be a German Pils with a malt bill very much like my other lagers and I'll use Hersbrucker hops. I've done Tettnang and Saaz lagers recently so I thought I'd give Hersbrucker a go this time. The water profile and Ashbeck base water are all identical to my previous lagers.
Recipe Specifications
--------------------------
Date: 29 March 2020
Recipe: Frühlingbrau
Style: German Pils
Batch Size (fermenter): 24.00 L  
Estimated OG: 1.044 SG
Estimated Color: 8.4 EBC
Estimated IBU: 25.2 IBUs
Brewhouse Efficiency: 75.00 %
Est Mash Efficiency: 75.6 %
Boil Time: 60 Minutes
Finished water profile: Ca:28, Mg:3, Na:9, SO4:10, Cl:44

Ingredients:
------------
Amt       Name                                               Type          %/IBU   
29.57 L   Tesco Ashbeck                                      Water         -       
3.30 ml   Lactic Acid (Mash)                                 Water Agent   -       
1.20 g    Calcium Chloride (Mash)                            Water Agent   -       
4.30 kg   Weyermann Bohemian Pilsner (4.0 EBC)               Grain         97.0 %  
0.13 kg   Melanoidin (Weyermann) (70.0 EBC)                  Grain         3.0 %   
0.30 g    Calcium Chloride (Sparge)                          Water Agent   -       
0.20 ml   Lactic Acid (Sparge)                               Water Agent   -       
15.00 g   Magnum [11.00 %] - Boil 60.0 min                   Hop           23.0 IBUs
12.00 g   Hallertauer Hersbrucker [3.20 %] - Boil 15.0 min   Hop           2.2 IBUs
16.00 g   Hallertauer Hersbrucker [3.20 %] - Boil 10.0 min   Hop           2.2 IBUs
22.00 g   Hallertauer Hersbrucker [3.20 %] - Boil 5.0 min    Hop           1.6 IBUs
1.0 pkg   Urkel (Imperial Yeast #L28)                        Yeast         -

Mash Schedule: Single Infusion, Medium Body, Batch Sparge
Total Grain Weight: 4.43 kg
----------------------------
Name              Description                             Step Temperat Step Time    
Mash In           Add 24.57 L of water at 69.2 C          66.0 C        60 min       

Sparge: Dunk sparge with 5 L of water at 75 C

I've called it Frühlingbrau which is spring brew in German because it's spring and it's a brew. Yes, very German. It is exactly what it says on the keg!
Brew day went well, albeit with a bit of dodging the hail and rain while trying to wash up my kit outside. The recipe was as above. I fell a little short on pre-boil gravity at 1.039 and, knowing that I'll get +3 from the boil I added 140g of dextrose to the boil to add another 2 points.
Our ground water is still cold and as such I managed to get it down to 21.0C with 65 litres of cold water through the immersion chiller. After that I collected nearly 24 litres into the fermenter.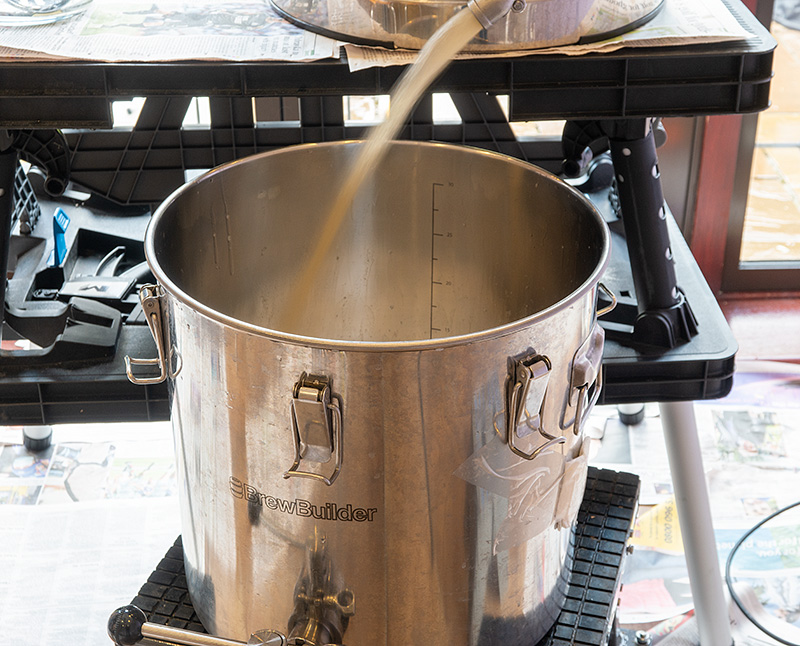 The dextrose addition did the trick and the OG was 1.044, just as the recipe called for. I've fallen short by a couple of points a few times now with the Weyermann Bohemian Pilsner malt compared to the now unobtainable Ireks pilsner that I used before. I think I'll have to fiddle with beersmith the next time I use the bohemian pils to compensate.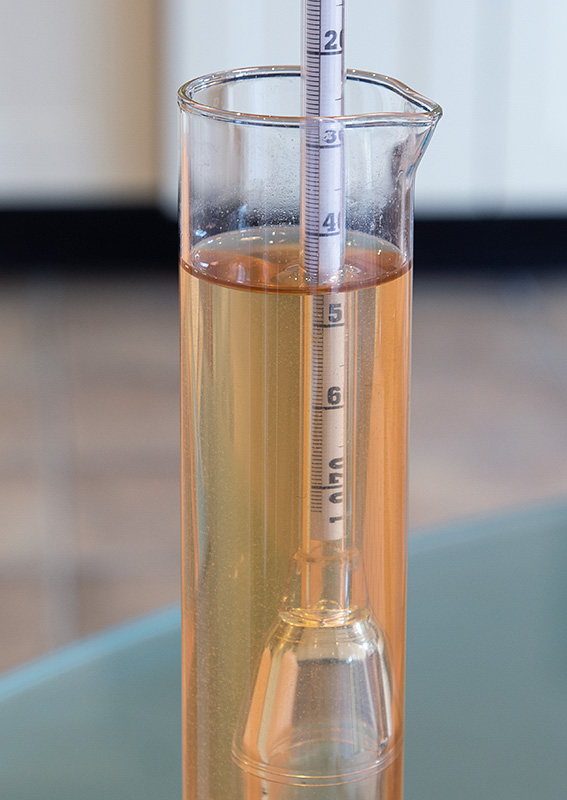 The sample is nice and pale, just as planned. The fermenter is now in the brew fridge coming down to 11 or 12C when I'll add the L28 starter.
Fermentation
I pitched the decanted L28 starter the following morning at 11C and 28 hours later bubbling through the blow-off tube has started. So now it's on with my usual lager schedule which will be about 5 days of 11C until bubbling shows signs of slowing then a gradual rise to around 16-18C for a total of 3 weeks in the fermenter.
Kegging
Fermentation was a week at around 11C and then two further weeks resting at 16C. As usual I fined the corny keg with Kwik Clear and after filling it there was enough left in the fermenter for 3 bottles.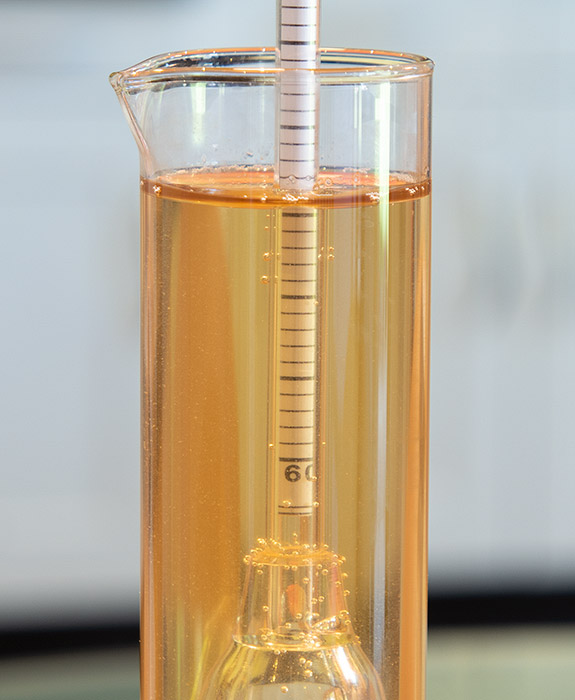 Tasting notes
I've decided that Frühlingbrau and Phoney Peroni are going to be the two pilsner lagers that I'll be brewing going forward. The Hallertau Hersbrucker hops in Fruhlingbrau have a Radler-esque refreshing hint of lemon that I really like.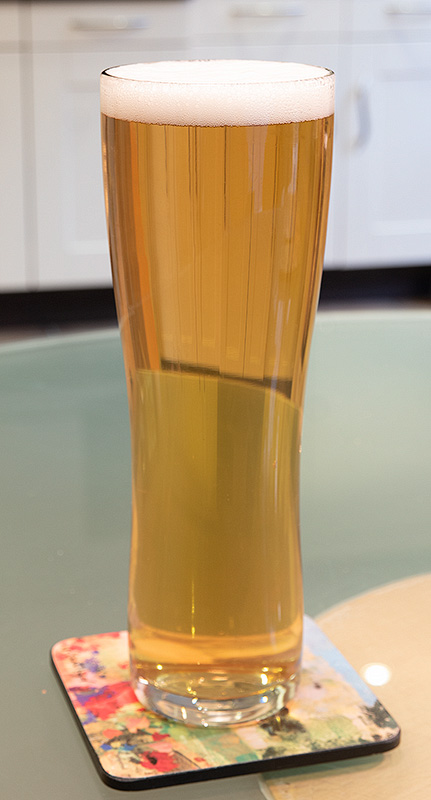 When planning this brew I wanted to try to make it close to a very quaffable Austrian pilsner by Stiegl that has a lovely lemon flavour. I guessed that they might be using Saphir hops and asked Steven at CML if they could get any. He said no they didn't have Saphir but suggested Hersbrucker as a very close alternative. I thought what the heck, brewed with the Hersbrucker and Steven was right, it's perfect!