Noble Duck
This brew is kind of a follow on from my Fuggle Duck recipe that I really enjoyed when I brewed it a few years ago. This time around I'm doing it with First Gold and Saaz which is not a combination I've seen before but I don't see any reason why it shouldn't work.
Yeast preparation
I'm using my overbuilt starter of Wyeast 1469 that was prepared for my Theakston Best clone. I've done another 1.5 litre starter and saved back 500ml for next time. This brew will get the remaining 1 litre after I've decanted off the spent beer that's sitting atop the new layer of yeast on the bottom of the flask.
Brew day
Here's the recipe that I came up with.
Recipe Specifications
--------------------------
Date: 4 June 2022
Batch Size (fermenter): 24.00 L   
Estimated OG: 1.040 SG
Estimated Color: 29.3 EBC
Estimated IBU: 35.7 IBUs
Brewhouse Efficiency: 75.00 %
Est Mash Efficiency: 75.6 %
Boil Time: 60 Minutes
Water profile: Ca:83 Mg:13 Na:9 SO4:120 Cl:92

Ingredients:
------------
Amt         Name                                    Type         %/IBU    
29.28 L     Tesco Ashbeck                           Water        -        
3.00 g      Calcium Chloride (Mash)                 Water Agent  -        
2.90 g      Gypsum (Calcium Sulfate) (Mash)         Water Agent  -        
2.70 g      Epsom Salt (MgSO4) (Mash)               Water Agent  -        
3.840 kg    Crisp Maris Otter (7.9 EBC)             Grain        94.0 %   
0.163 kg    Crisp Medium Crystal (240.0 EBC)        Grain        4.0 %    
0.082 kg    Weyermann Carafa II  (1150.0 EBC)       Grain        2.0 %    
0.60 g      Calcium Chloride (Sparge)               Water Agent  -        
0.60 g      Epsom Salt (MgSO4) (Sparge)             Water Agent  -        
0.60 g      Gypsum (Calcium Sulfate) (Sparge)       Water Agent  -        
11.00 g     Magnum [11.00 %] - Boil 60.0 min        Hop          14.3 IBUs
11.00 g     First Gold [6.80 %] - Boil 15.0 min     Hop          4.4 IBUs 
11.00 g     Saaz [4.70 %] - Boil 15.0 min           Hop          3.0 IBUs 
16.00 g     First Gold [6.80 %] - Boil 10.0 min     Hop          4.6 IBUs 
16.00 g     Saaz [4.70 %] - Boil 10.0 min           Hop          3.2 IBUs 
1.00 Items  Whirlfloc Tablet (Boil 7.0 mins)        Fining       -        
23.00 g     First Gold [6.80 %] - Boil 5.0 min      Hop          3.7 IBUs 
23.00 g     Saaz [4.70 %] - Boil 5.0 min            Hop          2.5 IBUs 
1.0 pkg     West Yorkshire Ale (Wyeast Labs #1469)  Yeast        -        


Mash Schedule: Single Infusion, Full Body
Total Grain Weight: 4.086 kg
----------------------------
Name     Description                    Step Temperat Step Time     
Mash In  Add 24.28 L of water at 70 C   68.0 C        60 min        

Sparge: Dunk sparge with 5L
------

The original recipe used midnight wheat for colour. This time I'm using the de-husked Carafa Special II and a bit more of it to hopefully give a nice nut-brown colour.
Brew day itself seemed to be going OK. The pre-boil gravity was exactly as expected and the hops started to go in at the intended times. That is, until I reached the final 23g additions and realised I was 16g short of First Gold from my 50g pack.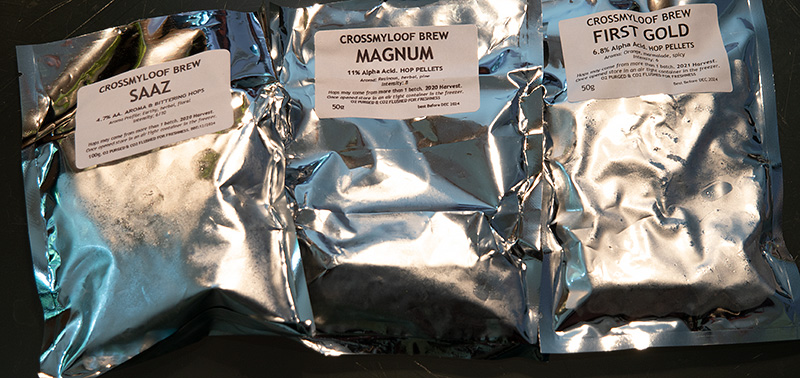 The only possible explanation was that I'd added 32g of First Gold at 10 minutes instead of 16+16 First Gold and Saaz. Oops. To make up for it I made up the missing 16g in the final addition with East Kent Goldings. It'll be alright.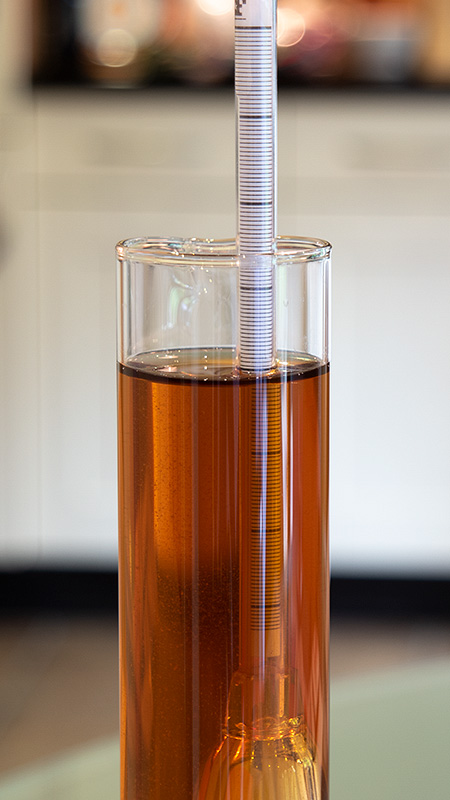 The colour looks nut-brown as I'd hoped and the OG was 1.040, exactly as planned and I got a bit over 24 litres into the fermenter. I managed to get the temperature down to 21C in about 15 minutes with my immersion chiller and then it went into the brew-fridge set to 20C with the keg that I'll be transferring it to hooked up inline with the blow-off tube to purge it with the CO2 produced during fermentation.
Kegging day
I kegged this one after my standard 14 days in the fermenter.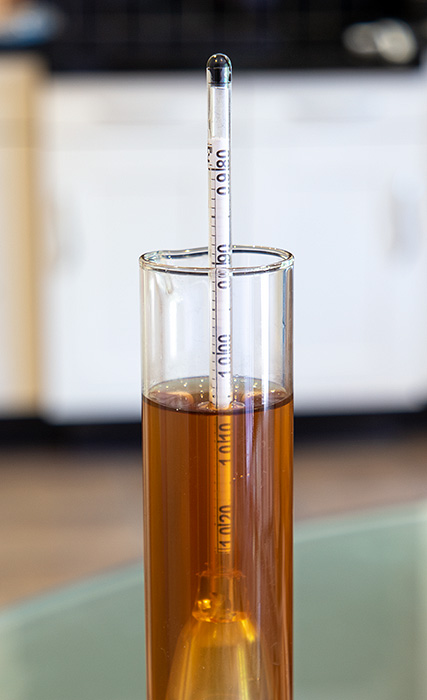 The FG was 1.008 after adjusting the hydrometer reading for its -2 points of inaccuracy. That gives a final ABV of 4.2%. I got a keg and 2 bottles from the fermenter, about a bottle less than usual. I did remember to decant the yeast starter this time which could have been the reason.
Although the photograph doesn't show it the sample jar was rather turbid in appearance which was slightly concerning given the reliably flocculent performance of Wyeast 1469. I think I know why. My normal kegging procedure is to first draw off and discard a few hundred millilitres of beer from the fermenter valve to clear out any trub that has settled there. Then I fill the keg from the valve. Then I take a sample. Then I fill bottles using however much beer remains until the fermenter valve sucks air. This time the fermenter sucked air after only 750ml of beer so out of curiosity during cleaning I checked how deep 750ml is in my fermenter. It's only 5mm. Therefore I took my sample from the top 5mm of beer where there will have been floating gunge that could have been sucked into the sample jar.
Anyway the keg was fined with leaf gelatine dissolved in water that was boiled and cooled to 65C. I purged the headspace even though the keg was CO2 purged during fermentation. It's now on at my preferred level of 12psi for carbonation and conditioning. Hopefully it'll be all cleared up and tasting good in a month or so. The sample jar tasted fine though obviously 'green', flat and warm.
Tasting notes
Toffee and caramel balanced by spicy Saaz notes are what I get. It tastes a bit like cask Shepherd Neame Spitfire on a good day.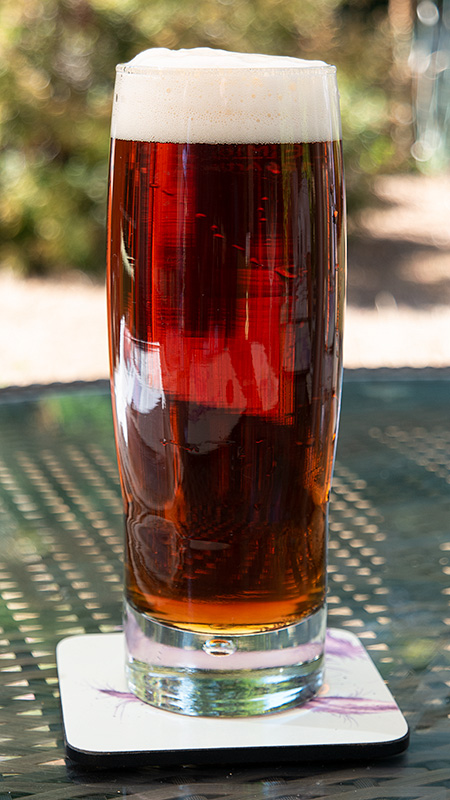 I don't get anything from the First Gold which is a shame. I think it might be overwhelmed by the very distinctive Crisp Crystal 240. In fact I think I could probably detect that particular crystal in any beer now. Personally I think I could halve the crystal 240, drop the Carafa and reduce the Saaz addition a bit and get a beer that's more to my personal taste.
There's nothing wrong with the appearance and technical standard of the finished beer though. My fears about the cloudy sample at kegging time proved unfounded.