Citrus Twist APA
The beginnng of Autumn marks the end of my lager brewing and a return to ales. This year I thought I'd do a run of American Pales to explore those lovely citrus flavours that you get from the US hops.
I had really good results from the Crossmyloof Brewery hop blends with my Punk'd Up and Outback IPA No.2 ales so I'm going to try their NEIPA Mix. I'm not actually brewing an NEIPA but the mix of Citra, Mosaic, Simcoe and Amarillo in this blend is a classic one for an APA so that's what I'm doing.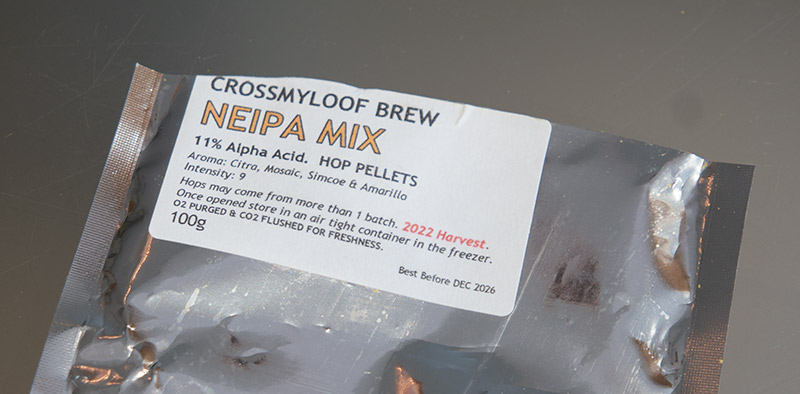 Yeast preparation
I built my starter on the Tuesday before the following Sunday's brew day. The yeast I've selected for this run of American ales is Wyeast 1272 (American Ale II). This is the first time that I've brewed with this yeast.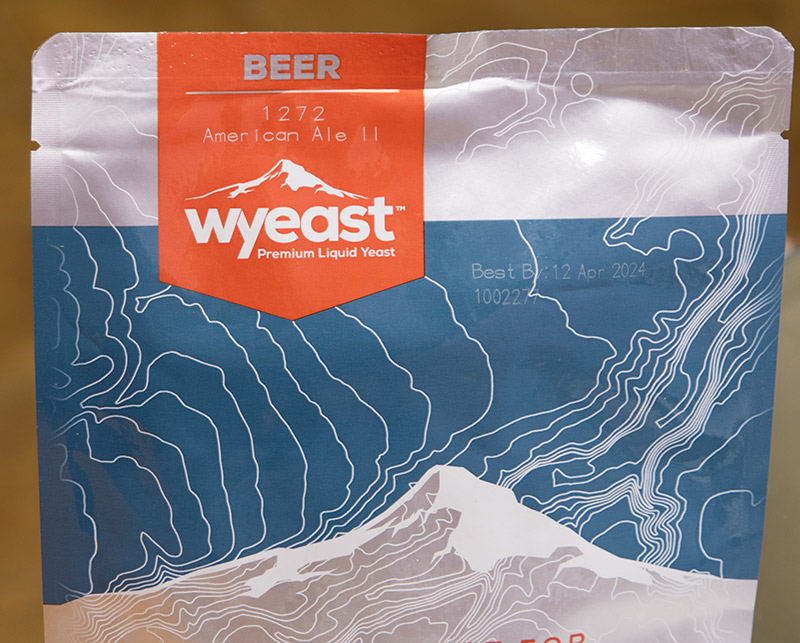 The yeast pack is very fresh so I built a 1500ml starter with the intention to pitch a litre and keep back 500ml in the fridge for next time.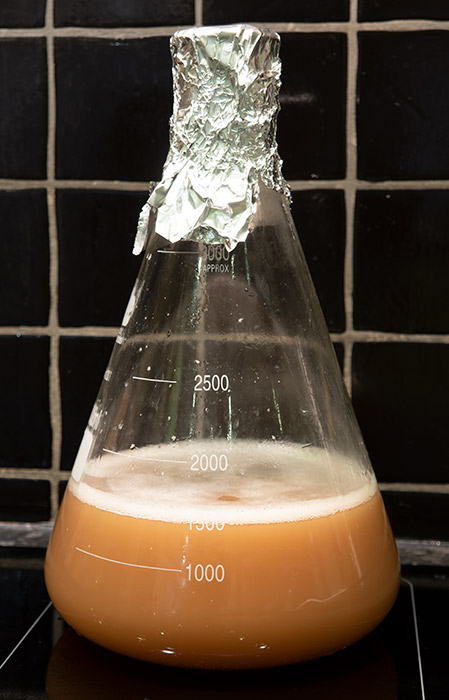 The starter was fully fermented out after 48 hours with no drama and no attempts to climb out of the flask and it was obvious from the colour that I'd collected a lot of yeast. I quickly separated off 500ml into a kilner jar and left the remaining litre in the brew fridge to chill until brew day. I noticed that the yeast wasn't particularly flocculent. It did clump together into fairly small pieces and settled quickly to the bottom though.
Brew day
Here's the recipe. You'll notice that there's no 60 minute hop addition and that's because there's sufficient bitterness from the 11% flavour hop additions.
Recipe Specifications
--------------------------
Date: 29 Oct 2023
Batch Size (fermenter): 24.00 L   
Estimated OG: 1.041 SG
Estimated Color: 8.4 EBC
Estimated IBU: 41.5 IBUs
Brewhouse Efficiency: 75.00 %
Est Mash Efficiency: 75.6 %
Boil Time: 60 Minutes
Water profile: Ca:74 Mg:12 Na:9 SO4:99 Cl:89

Ingredients:
------------
Amt         Name                                             Type          %/IBU   
29.49 L     Tesco Ashbeck                                    Water         -       
2.90 g      Calcium Chloride (Mash)                          Water Agent   -       
2.40 g      Epsom Salt (MgSO4) (Mash)                        Water Agent   -       
2.20 g      Gypsum (Calcium Sulfate) (Mash)                  Water Agent   -       
1.20 ml     Lactic Acid (Mash)                               Water Agent   -       
3.900 kg    Weyermann Bohemian Pilsner (4.0 EBC)             Grain         88.6 %  
0.500 kg    Weyermann Munich II (22.0 EBC)                   Grain         11.4 %  
0.60 g      Calcium Chloride (Sparge)                        Water Agent   -       
0.50 g      Epsom Salt (MgSO4) (Sparge)                      Water Agent   -       
0.50 g      Gypsum (Calcium Sulfate) (Sparge)                Water Agent   -       
0.20 ml     Lactic Acid (Sparge)                             Water Agent   -       
24.00 g     CML NEIPA Mix  [11.00 %] - Boil 15.0 min         Hop           15.3 IBUs
32.00 g     CML NEIPA Mix  [11.00 %] - Boil 10.0 min         Hop           14.9 IBUs
1.00 Items  Whirlfloc Tablet (Boil 7.0 mins)                 Fining        -       
44.00 g     CML NEIPA Mix  [11.00 %] - Boil 5.0 min          Hop           11.3 IBUs
1.0 pkg     American Ale II (Wyeast Labs #1272) [124.21 ml]  Yeast         -       

Mash Schedule: Single Infusion, Full Body
Total Grain Weight: 4.400 kg
----------------------------
Name     Description                    Step Temperat  Step Time     
Mash In  Add 24.49 L of water at 71 C   67.0 C         60 min        

Sparge: Dunk sparge with 5L
------

The original specification for this recipe had an OG of 1.044 and I realised when I took the pre-boil gravity of 1.037 that I'd forgotten to adjust down Beersmith's fermentability rating of 1.038 to 1.036 for the Weyermann grains so my actual OG was 1.041. The recipe above has the corrected numbers and, by that measurement I exactly hit the OG of 1.041.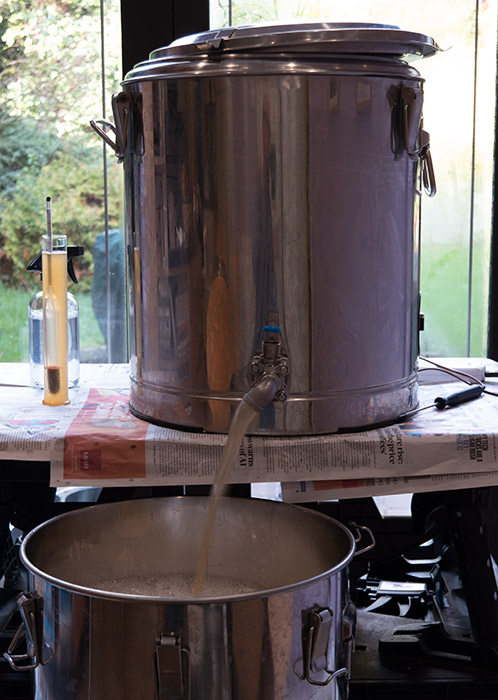 The brew day went off without a hitch and I managed to collect around the target of 24 litres into the fermenter.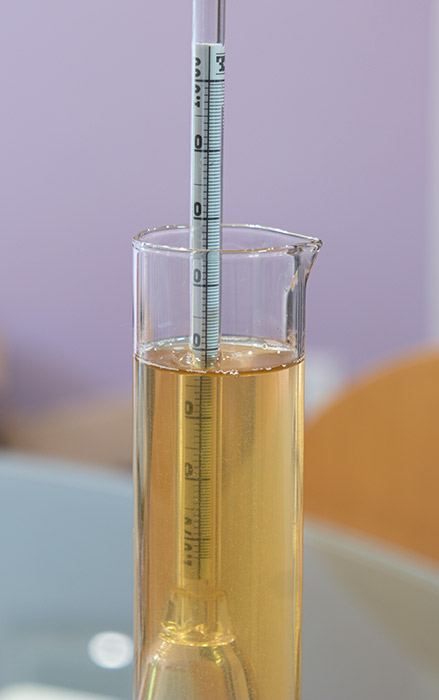 As I mentioned above I got an OG of 1.041. This will probably get me an ale in the region of 4.6%, depending on the performance of the yeast. I managed to get the wort down to 22C in about 10 minutes with my immersion chiller. The decanted and chilled yeast starter was pitched immediately, taking the temperature down to about 19.5C. I've put the fermenter into the brew fridge and set it to 19C. The plan is to leave it for a full 14 days before kegging.
Kegging day
After 2 weeks in the fermenter at 19C it's now kegging day. I used the keg that had been connected inline with the blow off tube to purge it with the CO2 produced during fermentation. Leaf gelatine was dissolved in 100ml of boiled and cooled water and added to the keg during the transfer.
I managed to get one keg and 2 bottles from what remained in the fermenter.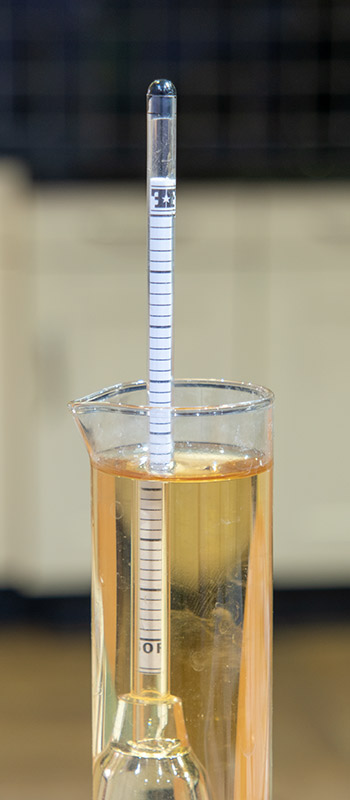 Final gravity was 1.005 giving an ABV of 4.7% which will be just right for around Christmas when there'll be plenty of other drinks on the go so I don't want the beers to be too strong.
I purged the keg with 5x15psi bursts of CO2 before leaving it set at around 12psi to carbonate and condition. It will initially be conditioning at 6C because the keg that's open in my keezer is my Phoney Peroni No.3 lager. When it's finished I'll let the temperature in the keezer come up to 12C which is more suitable for an ale.
The sample jar tasted really good with loads of the citrus flavours that I'd hoped for. This should be a good one.