Mittelstrasse Helles
Munich Helles is a popular lager amongst home brewers. It's low in bitterness, high in sweet malt flavours and has a deceptively simple recipe.
The key to brewing a great helles is in the ingredients and the process. The brewing water must be low in minerality, the grains must be fresh and the yeast should be a genuine Bavarian strain. Oxygen must be excluded from the beer post-fermentation to maintain that bright and fresh flavour all the way to the end of the batch.
Brew day
Recipe: Mittelstrasse Helles
Date: 28 February 2021
Style: Munich Helles

Recipe Specifications
--------------------------
Batch Size (fermenter): 24.00 L 
Estimated OG: 1.044 SG
Estimated Color: 6.3 EBC
Estimated IBU: 20.5 IBUs
Brewhouse Efficiency: 75.00 %
Est Mash Efficiency: 75.6 %
Boil Time: 60 Minutes
Water profile: Ca:29 Mg:4 Na:10 SO4:11 Cl:46

Ingredients:
------------
Amt         Name                                             Type         %/IBU
29.51 L     Tesco Ashbeck                                    Water        -       
3.20 ml     Lactic Acid (Mash)                               Water Agent  80%      
1.00 g      Calcium Chloride (Mash)                          Water Agent  -       
0.20 g      Calcium Chloride (Sparge)                        Water Agent  -       
0.20 ml     Lactic Acid (Sparge)                             Water Agent  80%     

4.00 kg     Weyermann Bohemian Pilsner (4.0 EBC)             Grain        90.0 %  
0.44 kg     Weyermann Carapils (3.3 EBC)                     Grain        10.0 %  

14.00 g     Magnum [10.70 %] - Boil 60.0 min                 Hop          17.1 IBUs
25.00 g     Hallertauer Hersbrucker [3.20 %] - Boil 10.0 min Hop          3.3 IBUs

1.00 Items  Whirlfloc Tablet (Boil 7.0 mins)                 Fining       -       
1.0 pkg     Munich Lager II (Wyeast Labs #2352-PC)           Yeast        -       

Mash Schedule: Single Infusion, Full Body
Total Grain Weight: 4.44 kg
----------------------------
Name              Description                             Step Temperat Step Time    
Mash In           Add 24.51 L of water at 71.6 C          66.0 C        60 min       

Sparge: Dunk sparge with 5L

No problems to report on the brew day. Everything went as planned and I even hit the estimated pre-boil and OG figures exactly which shows that I'm calibrated correctly for the Weyermann Bohemian Pilsner and need to remember to adjust downwards the next time I use Crisp Maris Otter to avoid a stronger than expected outcome!
The wort is of course an extra-pale lager colour: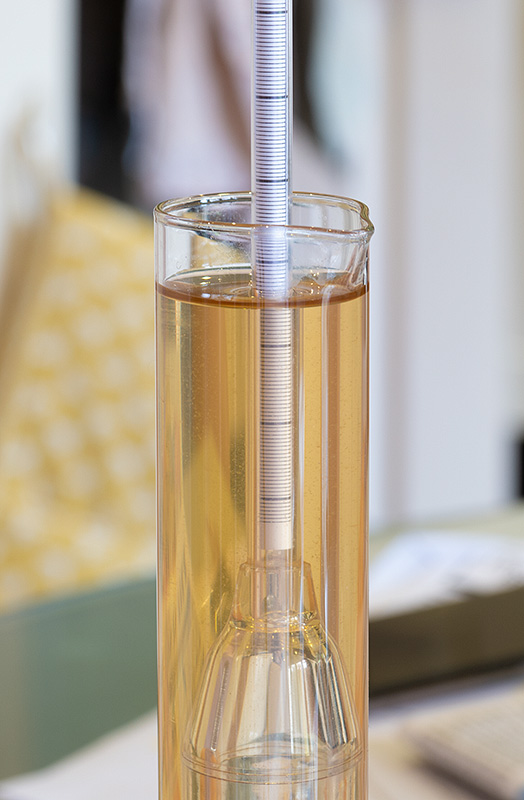 The quoted temperature range from Wyeast for #2352 is 11.1-16.6C (52-62F) which is quite high and wide for a genuine lager yeast. I always plan to ferment right in the middle of the range which makes it 13.8C. The ground water is still nice and cold so I was able to get the wort down to 20C with the immersion chiller. It's now in the brew fridge coming down the rest of the way to 13.8C when I'll pitch the yeast.
Fermentation
Wyeast 2352 Munich II is a private collection strain that doesn't get released very often and I'd like to keep it going over the next six months or so to re-use in more lager brews. To that end I've built up a starter that's 500ml larger than required so that I can keep it in the fridge for next time.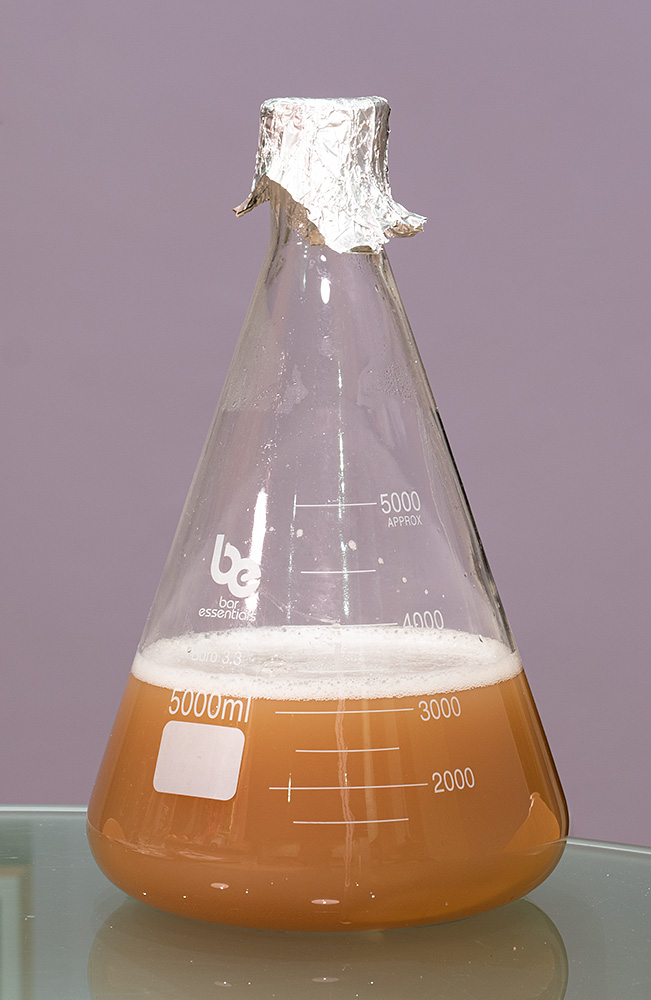 The remaining 2 litres from this flask were allowed to flocculate in the cold for a few days so that I could decant off the spent starter wort before pitching.
Kegging
Kegging day today for my Munich Helles after a total of 3 weeks in the fermenter. The first 5 days or so was about 13.5C (middle of the range for Wyeast 2352) and when I noticed it slowing down then I raised it to 16C for the rest of the time.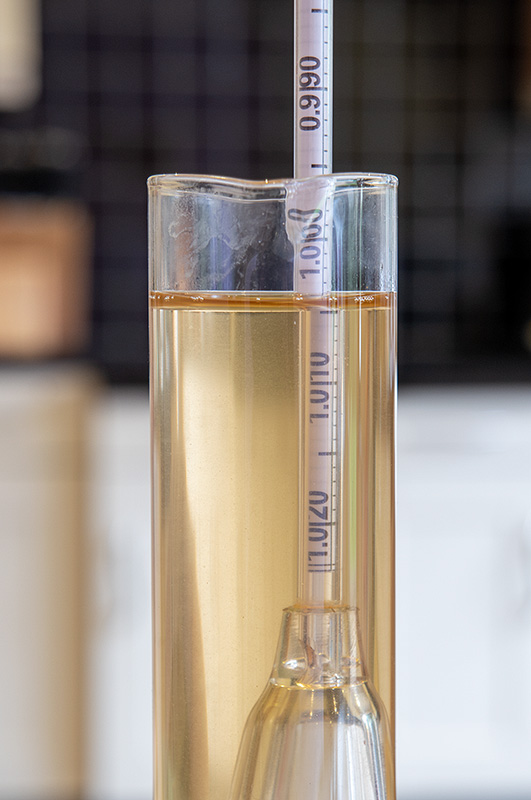 FG was 1.006 for an ABV of 5.0%. I got 1 keg and 3 bottles from it. The keg was fined with Clear-It, purged with 5x15psi and is now on at 20psi for a set-and-forget carbonation and conditioning. The sample jar tasted fine and the trub cake smelled lovely so it looks like it'll be a good one.
Tasting notes
It was a lovely afternoon in April sitting out on the patio enjoying a pint of the Helles. Served at 6C from the keg at 20psi. The glass isn't exactly beer-clean if I'm honest but it's what's inside that counts.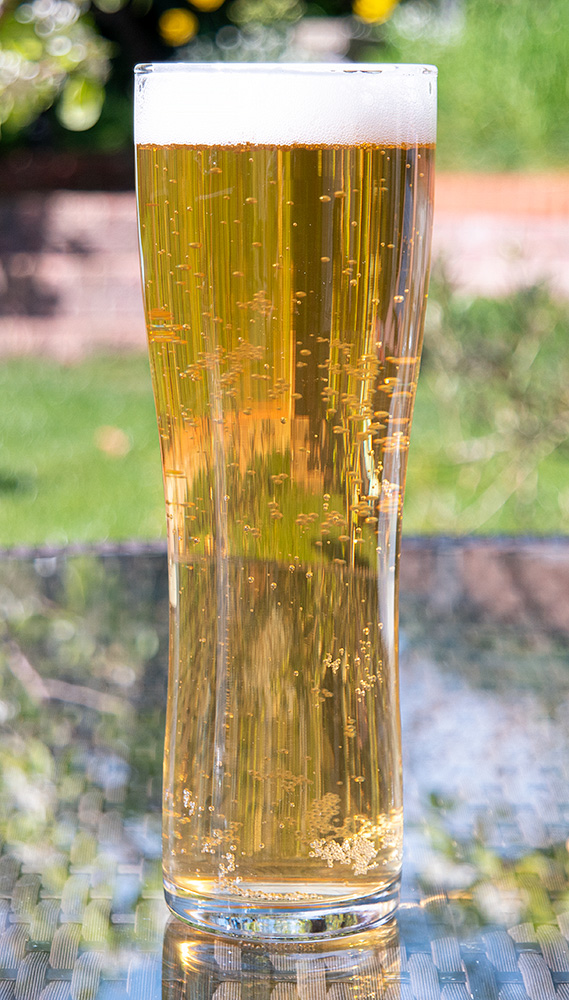 I've now tried Saaz, Mittelfruh, Tettnang and Hersbrucker in lagers and Hersbrucker is my favourite because it has a slight fresh lemon flavour that makes it taste very refreshing.