Dark ruby mild
This weekend I've decided to brew a Dark Ruby Mild by roughly following the Sarah Hughes Recipe in the Graham Wheeler book. Christmas is 3 weeks away now so this won't be ready in time for that event but it will make a nice winter warmer for January.
Yeast preparation
When Brewlab sent me the Yorkshire yeast that I ordered they included two slants in the package and I've been using the yeast made up from one of those slants in my last two brews. This time I've decided to make up a starter from the second slant that's been sitting in the fridge for the last few months. My plan is, as always, to overbuild my starter so I will now have two jars of the Yorkshire strain in the fridge which I will alternate between. This should stretch out the number of brews that I'll be able to make before it's exhausted, or I feel the need to try something different.
So, towards the end of last week I started the second slant off with 200ml of 1.040 wort and let it ferment out on the stir plate. Then I stepped it up with 400ml of fresh 1.040 wort without decanting and let that ferment out. I then chilled that starter for 48 hours and here's how it looks today: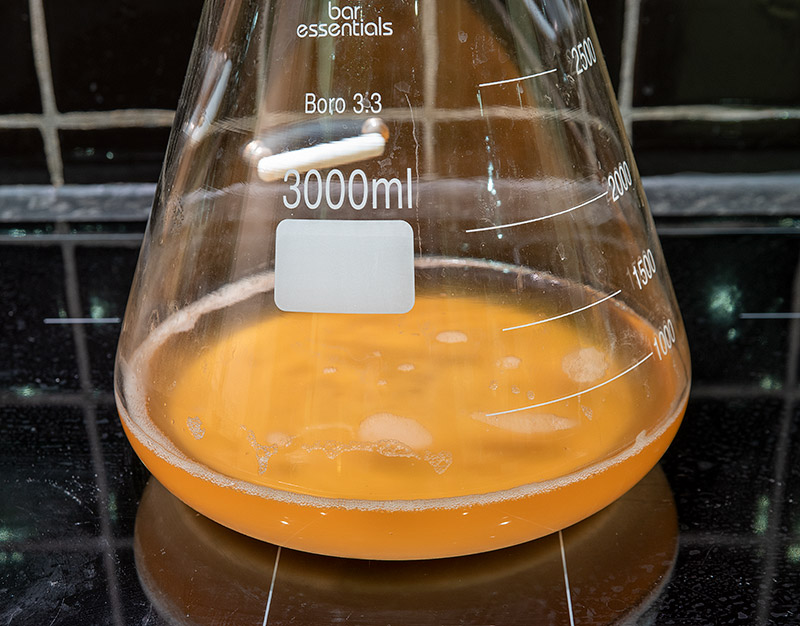 That's the stir bar held up against the side of the flask with a pair of neodymium magnets.
I made up the final starter of 1500ml, remembering this time to use my 5 litre flask after the last two starters made with this yeast in my 3 litre flask overflowed.
I was hoping to be able to decant most of the spent wort off the top of the finished starter before pitching it into the large one but the yeast proved to be rather powdery and I only got about half of it before I had to stop otherwise I'd be pouring away good yeast.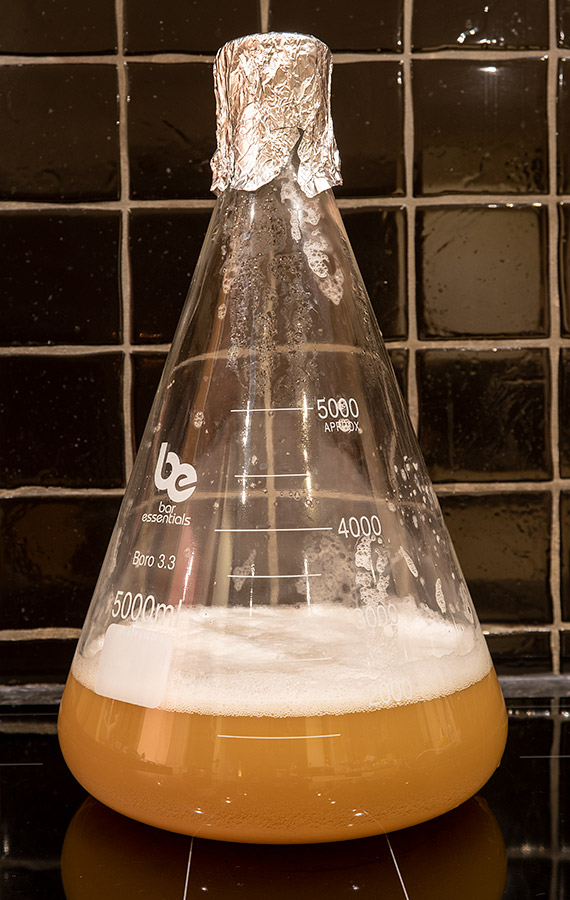 The big starter is now in the brew-fridge at 20C. It should be done in 2-3 days after which I'll decant 500ml into a Kilner jar for the next-but-one brew and the chilled, decanted 1 litre starter will go into the Dark Ruby Mild wort on Sunday. I'll be aiming for an OG of around 1.052 so 1 litre of freshly made yeast will be enough.
The above starter was put on the stir plate at 7pm on Tuesday evening and by the morning it was already developing a healthy krausen. By lunch time the krausen was even more impressive and, I have to admit, growing worryingly quickly. Would it escape the 5 litre flask? Thankfully the answer seems to be "no" because by the evening we seem to have reached high krausen. Here's how it went.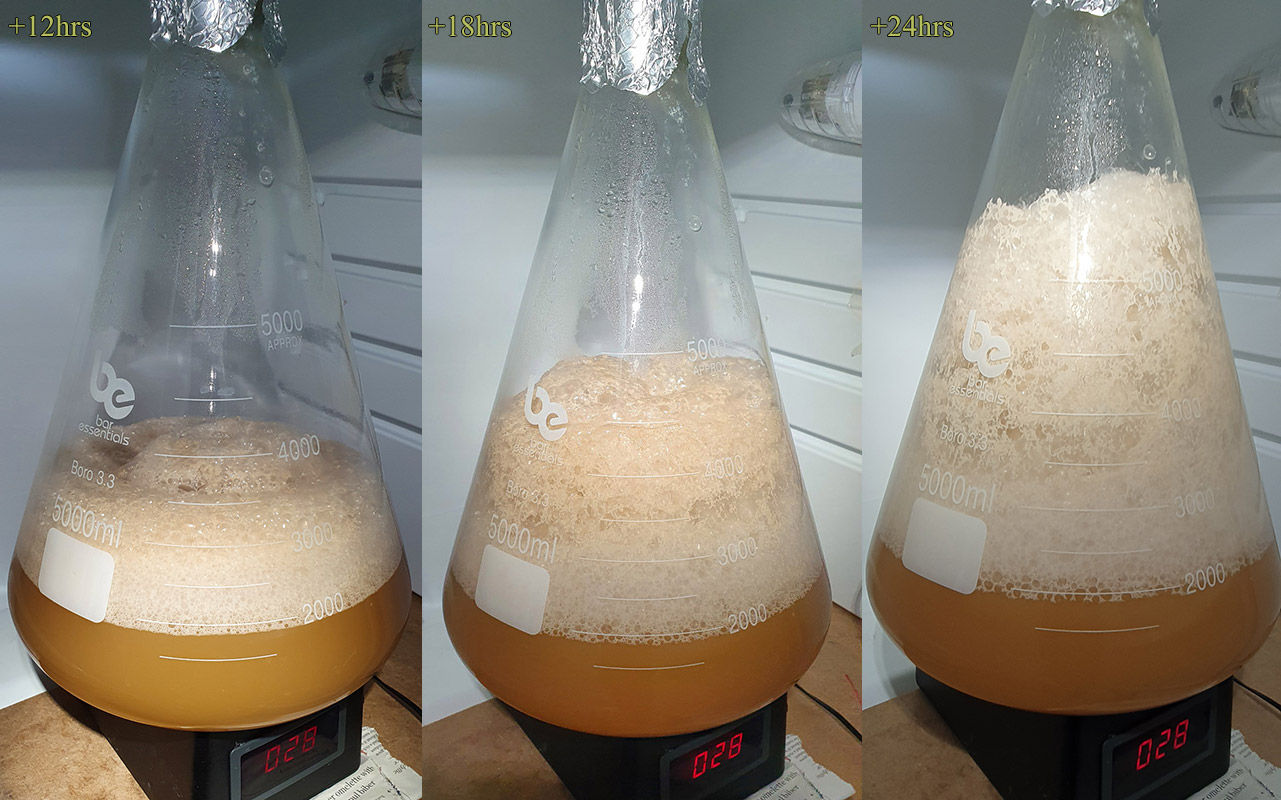 It'll stay on the stir plate for at least another day until the vortex created by the stir bar has had a chance to mix in some of that valuable yeast in the krausen back into the starter where I want it. I've never seen a yeast quite like this. It's very impressive.
Brew day
Here's the recipe for my Dark Ruby Mild. It's almost a direct copy of Graham Wheeler's version but with a few small adjustments. I split the 15% crystal into 10% 150 EBC and 5% 240 EBC to give it a little more complexity and hopefully some rich toffee notes from the 240. I scaled the recipe up to 24 litres and adjusted the hop weights to maintain Graham's target IBU. I also scaled the grain weight to get an OG that I think will result in an ABV close to the original's 6.0%. Finally, I used Carafa Special II to darken it and add a hint of coffee without the harshness of the black malts.
I wasn't sure about the ideal water profile for a mild so I went with something chloride-heavy to accentuate the malty flavours. The base water for this brew was Tesco Elmhurst. I couldn't use my usual Ashbeck because the mash pH would have dropped far too low. Elmhurst has a nice low mineral level with enough additional alkalinity to allow the use of dark malts.
Recipe Specifications
--------------------------
Recipe: Dark Ruby Mild
Date: 12 Dec 2021
Batch Size (fermenter): 24.00 L   
Estimated OG: 1.053 SG
Estimated Color: 40.5 EBC
Estimated IBU: 34.3 IBUs
Brewhouse Efficiency: 75.00 %
Est Mash Efficiency: 75.6 %
Boil Time: 60 Minutes
Finished water profile: Ca:188, Mg:14, Na:6, SO4:71, Cl:228
Mash pH: 5.30

Ingredients:
------------
Amt              Name                                              Type         %/IBU      Volume        
8.50 g           Calcium Chloride (Mash)                           Water Agent  -          -             
2.80 g           Gypsum (Calcium Sulfate) (Mash)                   Water Agent  -          -             
1.20 ml          Lactic Acid (Mash)                                Water Agent  -          -             

4.504 kg         Crisp Maris Otter (7.9 EBC)                       Grain        83.7 %     2.94 L        
0.538 kg         Crisp Light Crystal (150.0 EBC)                   Grain        10.0 %     0.35 L        
0.269 kg         Crisp Medium Crystal (240.0 EBC)                  Grain        5.0 %      0.18 L        
0.070 kg         Weyermann Carafa Special II  (1150.0 EBC)         Grain        1.3 %      0.05 L        

1.70 g           Calcium Chloride (Sparge)                         Water Agent  -          -             
0.60 g           Gypsum (Calcium Sulfate) (Sparge)                 Water Agent  -          -             

31.00 g          Fuggle [5.00 %] - Boil 60.0 min                   Hop          15.0 IBUs  -             
22.00 g          East Kent Goldings (EKG) [6.80 %] - Boil 60.0 mi  Hop          15.9 IBUs  -             
19.00 g          Fuggle [5.00 %] - Boil 10.0 min                   Hop          3.3 IBUs   -             

1.0 pkg          Brewlab Yorkshire                                 Yeast        -          -             

Mash Schedule: Single Infusion, Full Body
Total Grain Weight: 5.381 kg
----------------------------
Name                      Description                             Step Temperat Step Time     
Mash In                   Add 25.12 L of water at 76.0 C          69.0 C        60 min        

Sparge: Dunk sparge with 5L of 75C water.

I was up at 6:00am as is usual for my Sunday brewdays and got started by grinding the grain while the treated mash water was heating up.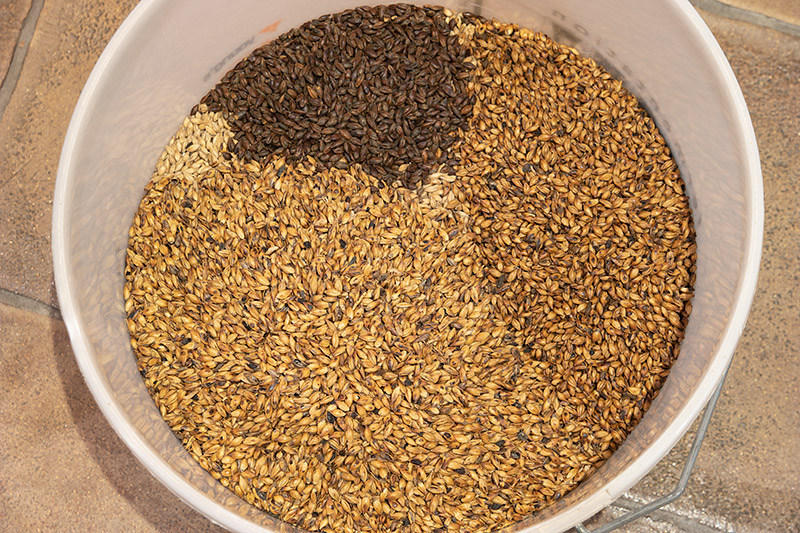 I mashed in at 69C, slightly higher than the 68C that I mashed my Landlord at. I'm still learning how the Brewlab yeast responds to mash temperature and I'm trying to coax a slightly higher FG out of it so that this beer has more perceived body. After all, the original Sarah Hughes is very full flavoured.
What followed was a straightforward brewday with nothing exciting to report except that I forgot to put a memory card in my camera and didn't notice the warning message so the photograph I took of the sample jar didn't get saved. Oh well, I can report that I hit 1.052 vs. the predicted 1.053 which I'm happy with. The wort was a nice nut-brown colour and tasted rich and smooth.
Chilling was very quick thanks to my new Klarstein 12 chiller and the wort was already down to 20C by the time I'd transferred it to the fermenter. The 1 litre starter of Brewlab Yorkshire was pitched at about 1pm and it's all now tucked up in the brew fridge set to 20C.
Kegging day
After 14 days in the fermenter I decided to keg it. Bubbling from the blow-off tube had ceased a couple of days ago so it was definitely time to get it transferred.
I got one corny keg and 3 bottles before the fermenter ran dry. My experiment in trying to raise the mash temperature (69C in this case) to lift the final gravity worked because this one attenuated 82% to finish at 1.009. For comparison the Landlord attenuated 84% and the Simple Autumn Ale 88% for mash temperatures of 68C and 66C, respectively.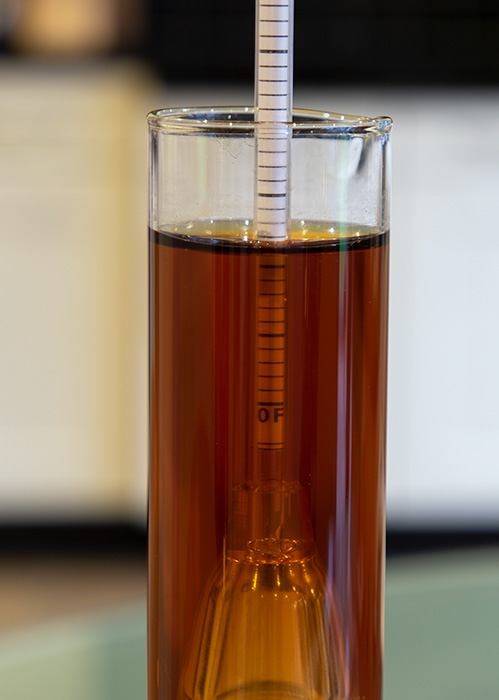 The ABV is 5.7% and although the colour looks quite light here in the jar I think it will look darker in a pint glass once it's ready. I fined the keg with dissolved leaf gelatin, purged the head space with CO2 and it's now carbonating and conditioning at about 10psi.
I think this one will benefit from a longer conditioning time so I don't expect to start it for at least a month.
Tasting notes
The first thing to note is that the conditioning time really makes a difference to this beer. I first tried it about 3 weeks ago and whilst the flavours were sort of there it was too roasty, too grainy and overly sweet to my taste buds. Now, after a total of 10 weeks in the keg it's fully rounded and really does taste great.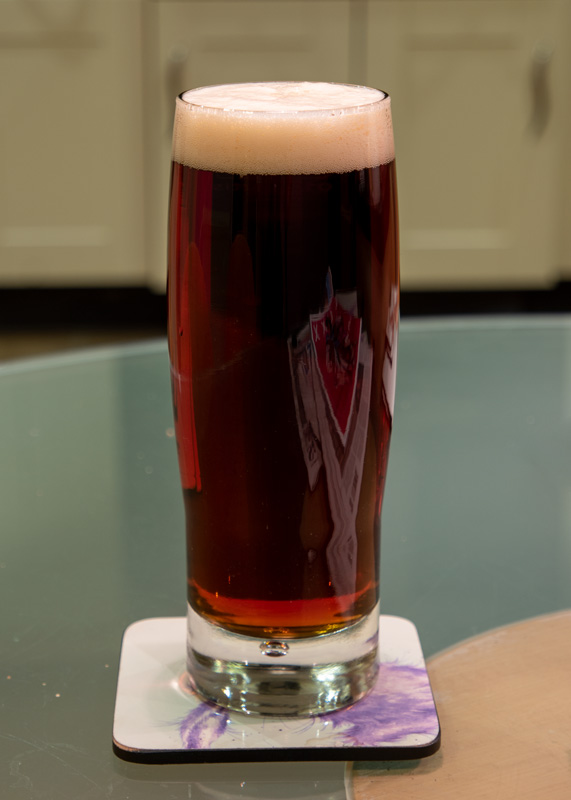 I've had a pint or two of SH recently enough to remember it; so is this recipe the same? Nope. SH as I remember it is more stone fruity. I'd like to try this recipe again some time using something like Bramling Cross as a flavouring hop to see how that would come out. Is it a good recipe in its own right? Yes, most definitely. It's rich, slightly spicy and just full enough flavoured to warn you that it's 5.7% and needs to be treated with respect. A very good winter beer IMHO.